Royal Caribbean International has updated its vaccine protocols following the Bahamas' decision to ban cruise ships from docking in their ports. The new guidelines are designed to protect guests and crew, but will also reduce the number of people who board each ship.
Royal Caribbean has updated their vaccine protocol following the Bahamas order. The company will now require passengers to provide proof of vaccination before boarding.
Royal Caribbean has revised its procedures for September, in light of the Bahamas' requirement that all cruise guests aged 12 and above be completely vaccinated. The cruise company has fought tooth and nail to maintain the regulations in place so that both vaccinated and non-vaccinated passengers may board the ships, but to no effect.
On August 19, the Bahamas' Prime Minister issued an emergency order affecting the cruise sector and cruise ships calling in the Bahamas. No travelers will be permitted to visit any Bahamas ports, including private islands, from September 3 to November 1, 2023, unless they meet numerous criteria, including a vaccine requirement.
From September onwards, all U.S. departures and departures globally aboard Royal Caribbean ships will sail with 100% fully vaccinated passengers due to the new regulations. This is now the case, since Florida regulations were revised in September, following the lead of other ports that previously required visitors aged 12 and above to be completely vaccinated.
Unvaccinated cruise ships are prohibited in the Bahamas
While a few instances have been recorded here and there, there have been no major outbreaks or other problems aboard Royal Caribbean and other cruise lines sailing with unvaccinated passengers have all managed to sail fairly smoothly over the past several months.
Nonetheless, the Bahamas' new emergency order essentially prohibits any cruise ship from sailing with passengers over the age of 12 who have not been vaccinated. It has also compelled Royal Caribbean to respond quickly.
All guests must be completely immunized beginning September 3 and for voyages aboard Allure of the Seas leaving Port Canaveral August 22 and August 29 and Symphony of the Seas departing Miami August 21 and August 29. Those under the age of 12 and visitors who are not eligible for any of the COVID-19 vaccinations owing to medical contraindications will be the only exceptions to this restriction.
Also see: Which Royal Caribbean Cruise Ships Are Back in Service?
Royal Caribbean's president and CEO, Michael Bayley, said the following:
The Bahamas has issued an executive order requiring all passengers above the age of 12 to be fully vaccinated before entering any Bahamian port (even private destinations). As of September 3rd, So, what does this imply? Along with the recent USVI ruling, this implies that all of our ships traveling from Florida, as well as all USA ports and ports throughout the globe, need all eligible passengers to be completely vaccinated. Only children under the age of 12 from US ports who have not yet been vaccinated are permitted to cruise, subject to testing and procedures.
So, what exactly does this imply?
Guests who have not been vaccinated are not permitted to travel with Royal Caribbean.
Royal Caribbean would not let any passengers aboard who have not been properly vaccinated globally, according to Michael Bayley's statement.
The departure of Royal Caribbean is not completely unexpected. While the cruise company is virtually obliged to follow the Bahamas' restrictions, the US Virgin Islands did so earlier this month. Furthermore, most European ships currently need a vaccination mandate for most sailings, and the same is true in the United Kingdom.
Many visitors have expressed a desire to travel with a fully vaccinated group of passengers, thus the Bahamas' efforts will be good news. Michael Bayley's Facebook post is filled with enthusiastic responses from passengers who have already booked aboard, applauding the cruise line's decision:
Fantastic news, and congratulations to the Bahamian government for using its legal authority to protect its citizens from Covid.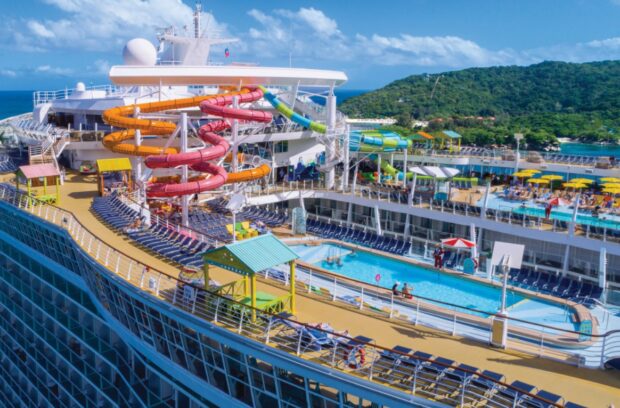 Everyone has the ability to make decisions. It is up to the islands to determine whether or not they want unvaccinated individuals on their islands, just as it is up to those who choose not to be vaccinated. When things don't go your way, you can't grumble.
However, the move from the Bahamas will elicit strong opposition from those who are opposed to vaccines in any manner at this time. Unfortunately for them, they will have to either get the shot or stop traveling on Royal Caribbean cruises for the time being.
Whatever the cause, it seems that most ports across the globe are heading toward a fully vaccinated requirement, leaving cruise companies with little choice except to demand the same of their passengers.
Royal Caribbean has updated their vaccine protocols following the Bahamas order. The cruise lines that don't require covid vaccine are Norwegian Cruise Line, Carnival Cruise Lines, and Princess Cruises.
Frequently Asked Questions
Does Royal Caribbean require proof of vaccination?
Royal Caribbean does not require proof of vaccination, but they do have a list of vaccines that are required for travel.
Does Royal Caribbean require a Covid test?
No, Royal Caribbean does not require a Covid test.