As the world grows increasingly more connected, the ability to get away for a romantic getaway, or even just a family vacation can be accomplished with the click of a button. Whether it's a tropical destination, or somewhere close to home, there are plenty of options to choose from.
There is a new trend in the travel and tourism industry, and it is called "experiential travel." Experiential travel is defined as "travel that is more than a mere ticket to a place of business or home of a tourist. And it transcends the act of tourism. It is more about the act of being."
Look, we all know how important having a family vacation is, but unfortunately for the average American family, it is getting harder every year to do so. The cost of everything from flights, hotels, and restaurants to merchandise has been increasing at an alarming rate. All this is to say, the next few years are going to be very difficult for the average family to choose a vacation destination.
Hawaii is one of the most popular destinations for American travelers right now, and studies show that it is just as popular with families.
Hawaii is in the first two places in Go Koala's family travel rankings. Waikiki and Wailea are first and second on the list, followed by Sanibel, Florida, Sedona, Arizona and Lake Tahoe, California (fourth).
Waikiki received the highest score of any destination, 8.38 out of 10, for both the percentage of kid-friendly activities, 83%, and the percentage of kid-friendly restaurants, 84%.
Wailea scored 8.27 out of 10, only slightly lower than Waikiki. Families love these places because of the many activities for kids and the family-friendly restaurants. More than 80% of restaurants are child-friendly.
On the island of Sanibel, which ranks third, nearly 70 percent of restaurants are kid-friendly.
The list was compiled based on a number of factors, including average cost of living per night, number of children's attractions, annual temperature, average rainfall and crime rate.
Here's the full list of Go Koala family destinations:
Waikiki, Hawaii
Wailea, Hawaii
Sanibel, Florida
Sedona, Arizona.
Lake Tahoe, California.
Hilton Head Island, South Carolina
Durango, Colorado.
Williamsburg, Virginia.
Astes Park, Colorado.
Nantucket, Massachusetts
Ruins in Virgin Islands National Park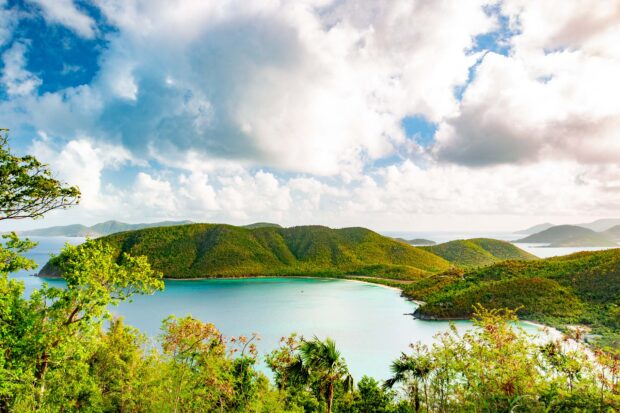 Go Koala has also ranked the best national parks for families. At the top of the list are Virgin Islands National Park, Redwood National Park and Big Bend National Park. Below is a complete list of the parks.
Virgin Islands, US Virgin Islands
Redwood, California.
Big Bend, Texas.
Badlands, South Dakota
Arches, Utah.
Guadalupe Mountains, Texas.
Everglades, Florida.
Carlsbad Caverns, New Mexico
Black Canyon of Gunnison, Colorado
Brice Canyon, Utah
Lake Clark, Alaska
In reviewing national parks for this list, Go Koala looked at the number of acres per visitor, the percentage of attractions listed as kid-friendly, the percentage of attractions listed as nature and parks, average temperature and rainfall to determine family-friendliness.
Based on these criteria, the Virgin Islands was ranked as the best national park for a family vacation in the United States, with an overall score of 6.58 out of 10. With a second highest temperature of 79.2 and 55 percent of attractions suitable for children.The struggle to plan out the perfect family vacation has never been easier. In fact, if you turn on the television, you may see some of the best vacations ever. The average American family will spend more than $15,000 each year on vacations, and there are thousands of ways to plan the perfect getaway. Whether you are searching for a tropical or winter getaway, you have a wide variety of options.. Read more about family vacation ideas 2023 and let us know what you think.
Infographic Provided by Beach Rental Company, VayK Gear
Frequently Asked Questions
Where can I take my kids this summer 2023?
The best place to go is the city of Toronto, Canada.
What is the best family vacation in USA?
The best family vacation in USA is to go to Disney World in Florida.
Where can a family of 5 go on vacation?
A family of 5 could go on vacation to a city like New York, San Diego, or Orlando.