The Florida Keys are known for their natural beauty and pristine white sand beaches, but they're also becoming a hot spot for new tourism offerings.
The new hotels opening in florida 2023 is a new tourism offering for the Florida Keys.
With new and improved lodgings, as well as activities and attractions that are perfect for the colder fall weather, the Florida Keys continues to raise the standard on its tourist offerings.
In October, the 184-unit Barbary Beach House Key West will be renamed Margaritaville Beach House Key West. A Tin Cup Chalice & Chill restaurant, new bar ideas, and family-friendly activities will be available at the site.
Discover all there is to know about the Florida Keys.
The Valhalla Island Resort, which will be situated on 25 acres and feature a 29-room resort as well as 50 villas, cottages, and houses, is now under development in the Middle Keys. A 12,000-square-foot spa, a 3,400-square-foot fitness center, and golf cart transportation will all be part of the project.
Grassy Flats Resort & Beach Club, also in the Middle Keys, is building a second pool and 28 beachfront accommodations, which will open in December.
The Flamingo Lodge & Restaurant, with one- and two-bedroom rooms and the new Flamingo Visitor Center, will shortly open in the Everglades National Park, which will celebrate its 75th anniversary on Dec. 6. Weather permitting, both are set to open in January.
The 125-room Faro Blanco Resort in Marathon is undergoing renovations that will include a larger pool area, a waterslide, Tiki huts, and more.
The Florida Keys History & Discovery Center in Islamorada will host an exhibit by members of the Tropical Botanic Artists collective that will showcase the birds, butterflies, moths, bees, and wasps that pollinate South Florida's native flora from September 17 to January 16, 2023.Collaboration with the Florida Keys National Marine Sanctuary, the visitors center and tanks at John Pennekamp Coral Reef State Park in Key Largo have added two new maritime history displays.
The pink Crane House in Marathon, built in the Frank Lloyd Wright architectural style, has reopened to the public after undergoing an exterior restoration at the Crane Point Hammock Museum & Nature Trail. Crane Point's 84-foot-long crimson train car, which will seat 25 to 30 passengers, is also undergoing repair.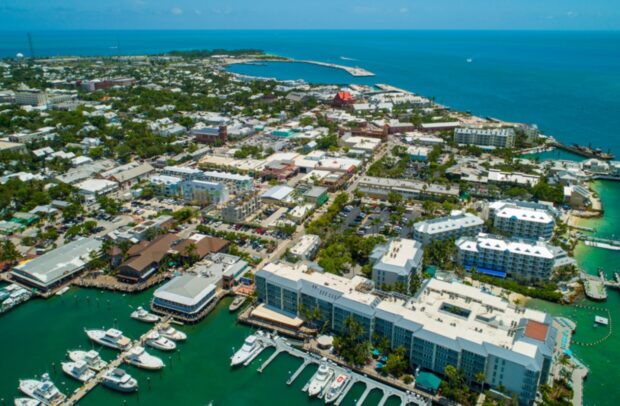 Island Vibe Charters, an LGBTQ-owned and managed charter business based in Key West, offers four- to six-hour snorkeling trips for families and parties of up to six people. The cost of a four- to six-hour journey begins at $600.
Scarecrows in the Forest is an exhibition at the Key West Tropical Forest & Botanical Garden that runs from September 15 to November 30 and features scarecrows created from natural and recyclable materials.
On the airline front, Allegiant will begin nonstop twice-weekly service from Asheville Regional Airport (AVL) in North Carolina on November 18 and from St. Pete-Clearwater International Airport (PIE) in Florida on November 19.
Drew Wells, Allegiant senior vice president of revenue and network planning, stated, "Key West is one of the most sought-after destinations in the United States right now." "We anticipate it to be a greater attraction for leisure tourists looking for an inexpensive, convenient holiday location for pleasant winter getaways," says the company.
The florida keys halloween 2023 is a new and enhanced tourism offering. The Florida Keys unveiled their new and enhanced offerings on October 31st, 2019.