We all have some hobby, something we do in our spare time that makes us relax and where we can get rid of all the gathered stress, and above all other things like spending time in nature while hiking or camping, or just traveling and experiencing new places, playing some sport emerges as the best possible activity.
Namely, every person has at least one sport they favor and likes spending time playing, regardless of whether that's football, basketball, or tennis, but golf has somehow become a to-go option for many people. There are numerous reasons for that, and even though golf might seem like an easy sport at first glance, the technique needed and even the physical condition required in order to play and actually win makes it one of a kind sport where time really flies when playing it.
Knowing all this, it's nothing unusual that so many people are into golf, and some even travel great distances just to try and play on some renowned course. Understandably, this is also a great way to spend your vacation, as you get the chance to explore new countries and regions and spend some quality time playing golf as well.
Now, even though there are so many golf courses, you might find it surprising that Mexico is one of those countries with some exceptional resorts with great golf courses. Mexico golf clubs are becoming more and more popular each year, and rightfully so, as the entire golf complexes consist of many other activities and vacation options, which makes it a great way to spend a week or two with your family, and that is also why we will today focus on the top golf clubs in Mexico.
Riviera Maya Golf Club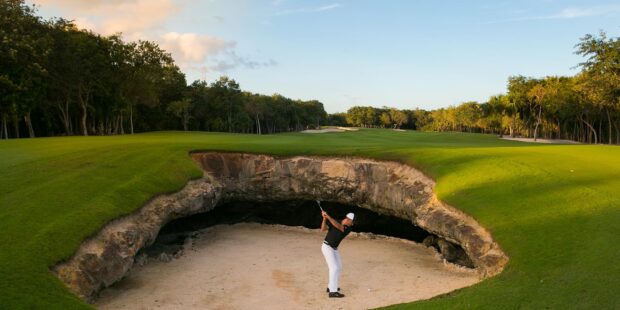 If a pleasing or beautiful view of natural scenery is what you seek, then this is the best place for you, as the entire resort complex is surrounded by magnificent Mayan jungles, natural lakes, and cenotes in a rugged geography. Of course, the golf course is also one of the best, and it consists of 27 holes, meaning that you should set a couple of hours playing it as once you get started, it would be difficult to stop.
The club is just 15 minutes away from the town of Tulum, but the chances are high that exploring this town would not be something you will do, as the complex of four hotels and an abundance of restaurants spread across the complex means that there is something for everyone.
While a Mexico golf holiday is an excellent choice for vacationers seeking relaxation and leisure, it's also fun to explore other unique travel experiences during different seasons. For those interested in a thrilling getaway in Orlando, Florida, there are exceptional hotels that cater to Halloween enthusiasts with special offerings and spooky savings.
Discover the best Orlando halloween hotels near Halloween Horror Nights and create unforgettable memories with a different type of vacation experience. Embrace the spirit of the season and enhance your travel experiences by exploring diverse destinations and accommodations.
Grand Solmar at Rancho San Lucas Resort Golf & Spa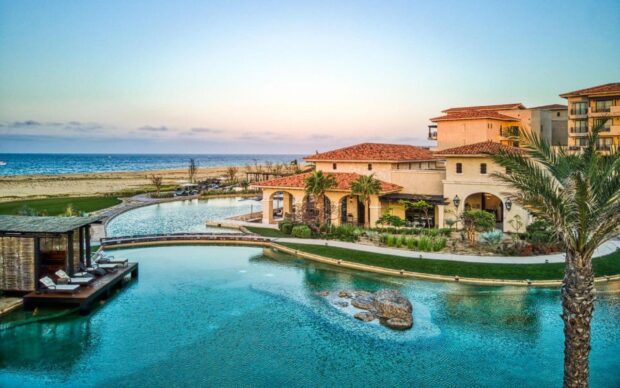 If we had to highlight one thing that makes this resort stand out from the rest, that's its ideal position between sapphire seas and dramatic desert landscapes. Of course, the course is also magnificent, with every hole providing a unique experience because the scenery and the views will really leave you in awe. All this means that staying here will make even those who have never played golf test their skills and try it at least once, as you would miss out if you wouldn't at least try it.
Another thing that makes this complex great is that it has something for everyone, and the entire family can enjoy various activities available. The only thing to worry about is that regardless of the time you were planning to stay here, you would definitely end up craving more.
Moon Palace Golf & Spa Resort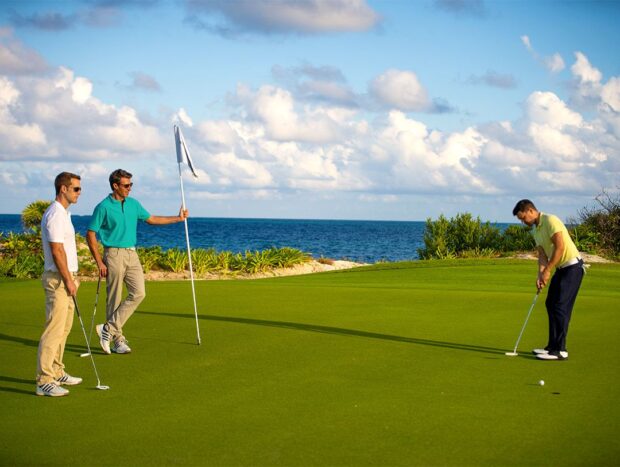 The fact that this club is just a thirty-minute car ride away from the airport makes it highly attractive for tourists and golf enthusiasts, but that's just the beginning. Namely, this is a five-star resort, meaning that more than two thousand rooms are well-equipped and air-conditioned, with a mini bar at no extra charge. It literally has everything that you might expect for such a highly-rated club, and even if all these things this club has to offer are not enough for someone, Cancun is just ten minutes away, so even wild nightlife is something that one can expect.
As for the golf course, it is one of the best in Mexico, with 27 holes and three different loops of nine. The rich flora and fascinating fauna make these courses one of a kind, and just going through the course should be a tourist excursion because the scenery really is breathtaking. After spending that much time in nature, the best way to relax is to go to a full-service spa, which can be a starting point for a great evening. Overall, this club is ideal for the entire family, as there is something for everyone, regardless of their age.
ATELIER Playa Mujeres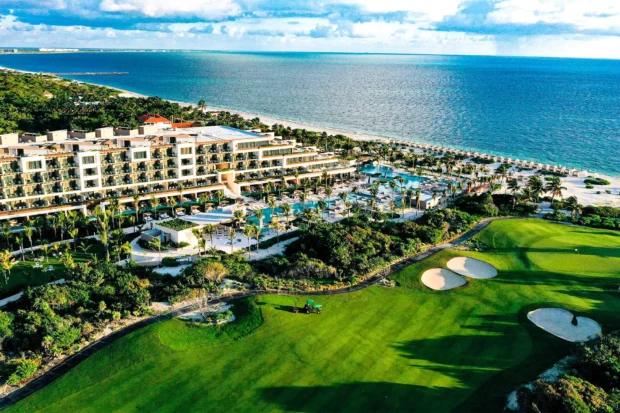 This club is recognized as one of the best clubs with the best golf courses in Mexico, and once you get a chance to go through the entire 18 holes on this course, you will easily understand why. Everything from the transportation to the Clubhouse to providing visitors with equipment and refreshments is included, which is why this club is one of the tourist favorites.
The course itself is placed ideally and separated so one would spend time playing nine holes beside the Chachmuchuch lagoon and nine holes hugged by sand dunes, with a backdrop of a stunning view of the Caribbean Sea. One thing that some might find troubling is that this is a club for adults, meaning that those under the age of 16 cannot stay.
Iberostar Grand Paraiso
Even if someone is not that into this sport, and even if their primary goal is just to relax and enjoy the sun and the sea, this resort should be one of your to-go options. This place has everything one might seek or need, and a wide range of activities for both kids and adults will make you stay for a bit more. The 18-hole course is placed and designed ideally and will not leave anyone indifferent as it is surrounded by nature, exotic animals, and ancient ruins.
One can choose between several packages, and each has different fees and benefits, but if you really want to enjoy playing golf here, going with an unlimited package is the best option, as the service would be a VIP one. Overall, one thing to remember is that you only need to bring essentials for your golf voyage, as every resort and golf club has everything one might need.