A beach vacation is a perfect opportunity to de-stress and make lasting memories. From the cultural vibes of Greece's Mykonos to the natural jewels of Montego Bay, beaches are full of diverse and unique experiences.
Add a little adventure and excitement to your beach vacation by joining beach parties bustling with life, colourful music, and relaxed vibes! Here we've rounded the top eight must-visit beaches globally to combine the natural beauty of beaches with the idyllic party scenario:
1. Miami Beach, Florida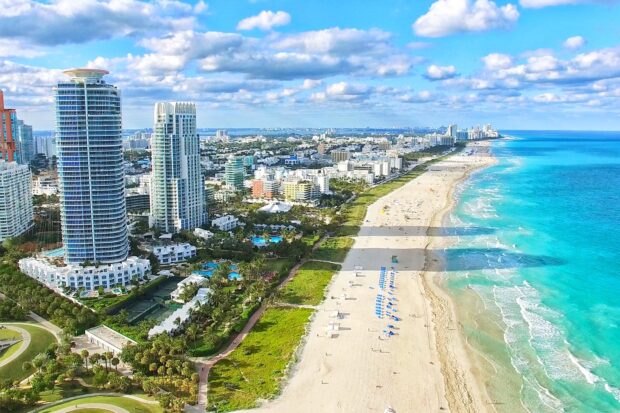 Palm-fringed Miami Beach features a collection of beaches, each with clear-blue seas, soft sand, and lively nightclubs. The nightlife is exceptionally glittery, glamorous, and alive!
The beautiful beach hosts several festivals and events throughout the year, giving it a unique retro flair. Visit its top spots, including the Nikki Beach Club and SLS Pool Party, where you can spot models and celebrities to hip-hop and salsa.
The extravagant vibe and raging nightclubs offer phenomenal vibes and promise a party only a cab away!
2. Montego Bay, Jamaica
Situated in the heart of Jamaica, Montego Bay is home to beautiful beaches, outdoor attractions like adventure tours, and historic homes. The picturesque island comes alive during the night as it offers an extensive range of exciting bars, nightclubs, and lounges.
Make the most of your time by visiting the best Montego Bay, Jamaica resorts, including the Tilted Kilt, Pier 1, The Jungle, and Blue Beat Ultra Lounge. Additionally, you can enjoy a one-of-a-kind beachfront dinner and late-night party by visiting the Tryall Club.
Celebrate Jamaican culture and cuisine before you loosen up on the dancing floor. Dance with a crowd of happy people to reggae music by joining the Reggae Beach Party!
3. Ibiza, Spain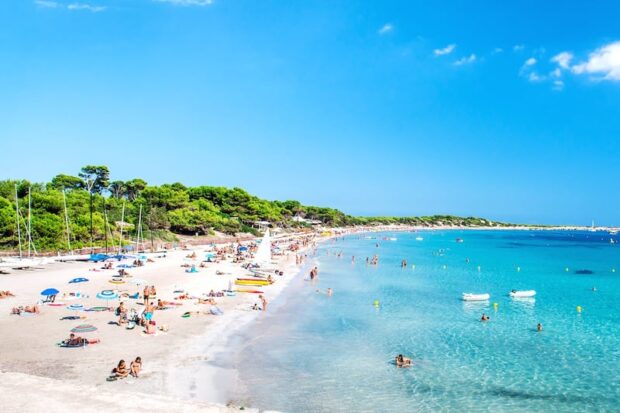 Ibiza is a scenic island off the coast of Spain famous for its buzzing nightlife, thriving clubs, and electronic music. The Mediterranean island is full of boat parties, nightclubs, and music festivals, making it the perfect spot for couples and friends seeking a fun getaway.
With a unique vibe and lively tunes, the beautiful island of Ibiza will keep your spirits during the day and night. Besides its lively beaches and hotel pools, the spectacular island is a UNESCO World Heritage City due to its expansive historical sites.
4. Bali, Indonesia
Afternoons in Bali are all about surfing in the turquoise water, sunbathing on the golden sand, and walking along the beautiful coastline. Once the sun disappears, however, that's when their scenic charm and parties begin.
The beaches in Bali are all about dancing till the wee hours and pulsating music. Besides that, the clubs, bars, and hotels offer yummy cultural food and freshly mixed cocktails, making it one of the most popular beach destinations worldwide.
5. Koh Phangan, Thailand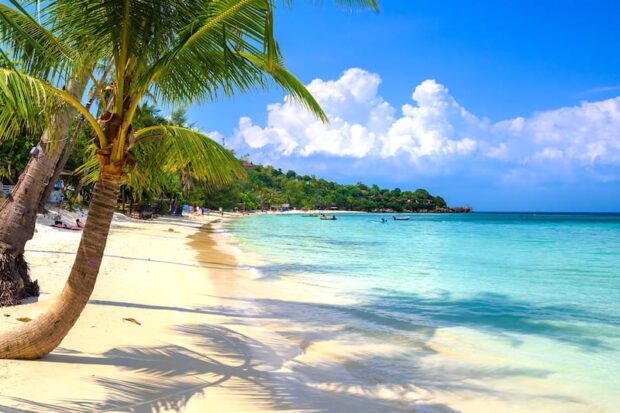 Koh Phangan is another beautiful beach with a relaxed vibe and clear-blue waters. But every thirty days, the scenic island holds its famous Full Moon Party in the heart of Haad Rin.
Every month, thousands of foreigners visit its no-holds-barred hedonism fuelled by lively music and diverse drinking options. While not for the faint of heart, this party in Thailand boasts glow sticks, body paint, bucket loads of alcohol, and an atmosphere you won't find anywhere else!
6. Mykonos, Greece
When you hear "Greece," you might imagine eye-catching natural jewels, jaw-dropping ocean vistas, and delicious cuisines. But to young couples and lively groups of friends, Greek cities like Mykonos are the home to prepossessing beaches with exciting nightlives.
These beautiful party destinations have bars, restaurants, and nightclubs, making the town a dream for revelers. What's more? The picturesque beaches help you recover from its lively, late-night beach and poolside parties with its stunning luxury hotels!
7. Cancun, Mexico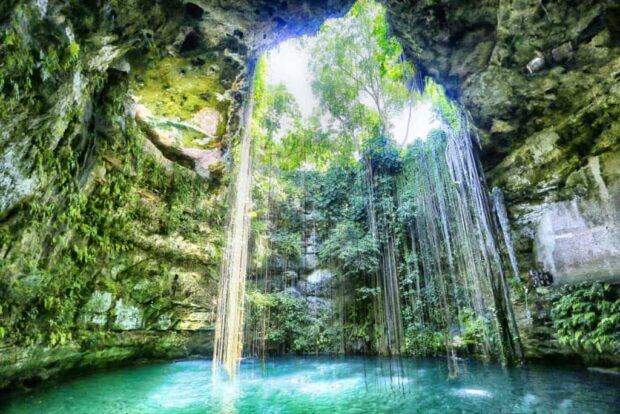 Take your vacationing experience to a new level with Cancun's boisterous party scenes. With its popular outlets and buzzing music, the beach offers tourists the opportunity to make attractive opportunities.
Besides its expansive nightclubs featuring foam parties and bumping music, Cancun offers tourists scenic views and snorkeling opportunities. Moreover, you can access open bars with every club's ticket!
8. Rio di Janerio, Brazil
Brazil's cultural capital is home to two wildest party beaches famous for its seaside party city and booming music. The Copacabana and Ipanema beach are among its most famous beaches, offering daily carnivals and live Samba music.
In addition, you can enjoy freshly mixed caipirinha cocktails and unmatched gin and tonics. You can also relax after all the partying by sunbathing on Brazil's expansive white-sand beaches.
The Bottom Line
Plan the perfect getaway with your lover or close friends by ticking off one of the beaches we discussed. Make memories that'll last forever by flying to beaches with lively tunes and wild vibes.
Enjoy equal parts of partying and relaxing by choosing Montego Bay in Jamaica. Enjoy dancing the night away near the scenic beach and relaxing on the soft sand.