The Hill Country of Texas is a magical place that has been home to cowboys, Indians and settlers. It's also the perfect destination for those seeking peace and tranquility.
The treehouse masters utopia texas episode is a documentary that follows the lives of two tree house owners. It shows how they built their dream home and life in general.
Treehouses are a wonderful and unique method to escape reality and immerse oneself in nature, whether one is a genuine kid or simply a child at heart. Treehouse Utopia is a treehouse hideaway deep in the tiny Texas hamlet of Utopia. Treehouse Utopia is a Texas Hill County retreat unlike any other, nestled along the banks of the Sabinal River.
Treehouse Utopia may have been featured on an episode of Animal Planet's Treehouse Master if you're a huge lover of treehouses. This retreat happened by chance when Pete Nelson, the Treehouse Master, and his Nelson Treehouse team dined at The Laurel Tree, owned by Laurel Water.
Nelson and Waters started designing a treehouse to eat in at the restaurant and Treehouse Utopia after spotting a magnificent 450-year-old oak tree in the restaurant's garden.
Today, The Laurel Tree restaurant has a beautiful treehouse where guests may dine while enjoying a seasonal cuisine based on what's blooming and plentiful in Water's culinary garden as well as what's available in local markets.
Treehouse Utopia is a collection of four beautiful treehouses, each with its own theme, style, and décor. Each treehouse is tastefully adorned with antiques and curiosities from Water's own collection, which she accumulated during her years traveling and working as a chef in France.
The treehouses are constructed into the old cypress trees that line the property's river, which runs through it. Water's family has owned the property for many years and designed this retreat with couples in mind. Treehouse Utopia is the perfect off-the-grid getaway to make new memories, relax, and get away from the stresses of daily life.
The Carousel is a fanciful treehouse with a spiral staircase leading to the entrance, colorful, lively décor, a happy atmosphere, and antiques like a real merry-go-round horse.
The Biblioteque is a charming reading nook with sparkling lights, a gas fireplace, a large selection of books, and all the elegance you could want.
The Chateau treehouse is the biggest of the four, with a spacious deck, two floors, a footed bathtub, a king-size bed, and relaxing nooks.
The Chapelle is a beautiful treehouse with rich crimson tones, stained glass, chandeliers, a plethora of flameless candles, and intricate embroidery work.
The treehouses are all magnificent, with air conditioning and heat, a kitchenette, a bedroom, a sitting area, a complete bathroom with tile shower (two even have clawfoot tubs), and a sitting terrace.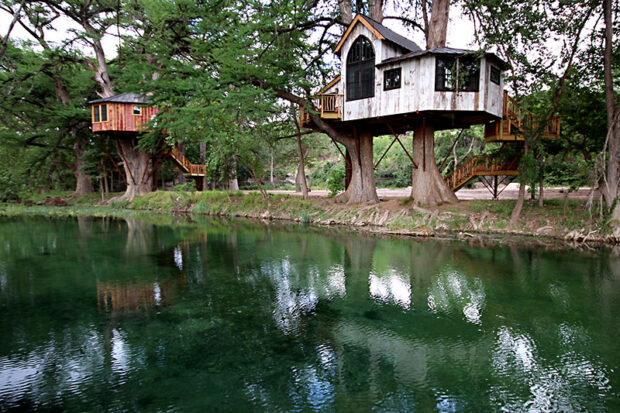 You'll be surrounded by nature, animals, butterflies, and more on the property. It's great for watching sunsets and sunrises, as well as stargazing, since you're really in the middle of nowhere. Guests are invited to cool off in the river, and beach towels and floats are provided.
For breakfast, Waters offers a variety of hand-baked treats such as handmade breads and muffins, as well as delicious granola, fresh fruits, and yogurts. For those who prefer to start their day with a hot coffee, each treehouse includes a Keurig.
From the architecture of the treehouses to the breathtaking landscape, this is really a one-of-a-kind vacation.
Before you go, make sure you have either AT&T cell service or bring a portable WiFi device, as other cell carriers do not work in this area. Moreover, be aware that Treehouse Utopia is located off-the-beaten-path, so be sure you're driving a car that can withstand unpaved, bumpy roads. Make note that children under 18 and pets aren't allowed on the property.
If you want to see more of Uvalde County, the trip into town takes approximately half an hour and takes you over some winding roads that may be scary in the dark and/or rain. Keep in mind that without cell connection, you won't be able to use GPS, making navigation difficult. To travel from point a to point b, make sure you have a map or pre-loaded instructions.
There are many must-do activities in the neighboring town of Concan, including floating down the Frio River. Rent a tube or kayak from Happy Hollow Frio River Outfitters and explore the cypress-lined banks of the spring-fed Frio River. Book a helicopter trip at House Pasture for those wanting excitement. You'll get an incredible birds-eye view of Uvalde County. This part of Texas is very green, mountainous, and beautiful.
Get your hiking gear on and go over to Garner State Park, which has over 16 miles of beautiful trails for tourists who like to remain on dry ground. The Balcones Canyonlands are a unique sub-region with deep canyons, pure water streams, high mesas, and vast view spots.
Stop into Hippie Chic's River Shack for over-the-top snacks including tacos, salads, sandwiches, wraps, and juicy burgers when you feel hungry. It's a fun, large roadside barbecue that's great for the entire family.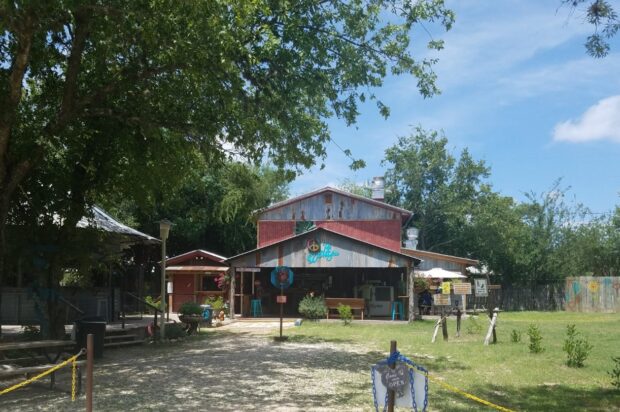 Satisfy your sweet appetite at The Frio Float, a Candyland-style dessert store where you can order enormous ice cream sundaes and milkshakes. Alternatively, go over to The Inn Between and get a mangonada from the Mangonada Bus, a sweet, tangy frozen delicacy that blends the sweetness of mango with the sour deliciousness of chamoy and spicy Tajn.
Another exciting location is House Pasture Cattle Company, a restaurant and Texas music venue where you can start your night with a steak meal cooked over mesquite wood and finish it at a crowded country performance on the wide grounds while learning how to two-step. Willie Nelson, the Bellamy Brothers, Tanya Tucker, and others have all performed in the past. It's a genuine taste of Texas Hill Country.
The treehouse bed and breakfast utopia texas is a magical retreat located in the Texas Hill Country. It is nestled in the beautiful hill country of central Texas.